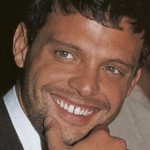 Yet another celebrity that makes wine has emerged.  Last night at my best friend's place, I was introduced to a great Chilean wine called Único Luis Miguel, but I never made the connection with the famous Latin Pop singer that has a Grammy under his belt – Luis Miguel.   I confess, I'm not a fan of his, but as of last night, I've become a fan of his wine.  I give him credit for selecting a well-known region in Chile.  Maipo Valley produces some outstanding high quality Cabernet Sauvignons and it shows in this particular bottle of Único Gran Reserva.  I highly recommend this solid wine for the price.
Wine Notes
1. Category:  Earthy, Peppery
2. Wine Type:  Cabernet Sauvignon
3. Country: Chile – Maipo Valley
4. Price: $13.00
5. Notes: Deep cherry red color with strong notes of black currant, black pepper, and a hint of earthy tobacco.  After enjoying the wine for an hour, hints of cocoa appeared.